Demetra George Astrology News
New Webinar Date and New Audio Releases!
We're pleased to announce the date for Demetra's next webinar on the 7th House. Join us Saturday, June 21. Details below.
This month we're also releasing three new audio programs, including the recent lecture Demetra gave to the New York NCGR chapter on Teresa of Avila.
In this very special program, Demetra does a wonderful job sifting through the remarkable details of Teresa's life to uncover the footprint of the asteroids Vesta, Juno and Psyche. She take an extensive look at her transits and secondary progressions in what proves to be an engaging and illuminating lecture. More details below.
Next Live Webinar on the 7th House is on Saturday June 21st
Join Demetra for her next webinar in the twelve houses series! This time we'll focus upon the Seventh House.
"Constancy of the heart" and marriage were emphasized throughout the astrological tradition as the primary meaning of the seventh house. But somewhere along the way opponents and open enemies, and then even the shadow and projection were added, resulting in the complex web of interaction with both the inner and outer 'Other' in our lives.
Join us for another lively and thoughtful investigation into the wheel of the houses that integrates ancient and modern approaches to the burning question that is most often asked of astrologers, "Tell me about my relationship."
Space is limited. Previous webinars have sold out. Register early!
$25 Register Now
---
New Audio Release:
Teresa of Avila: Venus, Vesta, Juno & Psyche
The asteroids Vesta, Juno and Psyche reflect the inner longing for mystical union with the beloved - whether this is with the Self, or the Deity, or the 'external other,' whereby relationship becomes a path to spiritual at-one-ness. Using the chart of Saint Teresa of Avila, a 16th century Spanish nun, mystic, ecstatic, and religious reformer who faced charges from the Inquisition, Demetra explores how these asteroids, and the planet Venus, relate to the relationship choices that were available to a strongly sensual independent woman of her time.
In this fascinating lecture, Demetra also tracks the secondary progressions of these asteroids in the context of the unfolding path of Teresa's soul journey towards the Spiritual Marriage.
mp3 format. 1 hour 15 min. Includes pdf of slides/handouts.
$15 Download Now
---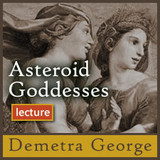 New Audio Release:
Working with the Asteroid Goddesses
In this archival recording, Demetra presents a classic hands-on asteroid workshop that shows you how to choose which asteroids to work with and how to incorporate them into a reading. Learn how to start working with each of the major asteroid goddess archetypes, as Demetra walks through the charts of two audience members who also share feedback.
The asteroids present us with an opportunity to explore a rich Western heritage of goddess mythology. This lecture will help you get started incorporating this illuminating material into your readings.
NCGR lecture. mp3 format. 2 hours. $15 Download Now
$15 Download Now
---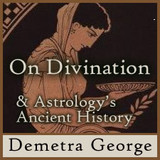 New Audio Release:
On Divination & Astrology's Sacred History
In this archival recording, Demetra shares her work exploring the historical underpinnings astrology as a divinatory art. Ancient people contemplated the shape of the future by using a broad range of divinitory arts, some of which date back to 6000 years of Western cultural history. Oracles, prophecy and portents, dream interpretation and astrology all played a significant role in the politics and religion of the ancient world. Many of these traditions went into decline with the advent of Christianity.
In this presentation Demetra shows how astrology fits into this rich cultural history and demonstrates the relevance it has to our practice of modern astrology today.
mp3 format. 1 hr. 23 min. 
$10 Download Now
---
2014 Conference Schedule
Join Demetra at ISAR this year: