Demetra George Astrology News
Is This Archeological Artifact the First Astrology Computer?
Discovered at the start of the 1900s as part of the Antikythera shipwreck, the so-called Antikythera mechanism could be the first world's first astrological "computer." New research sheds light on the inner workings of the mechanism, which is now known to be used to calculate planetary positions and eclipses. This month, Demetra is pleased to offer you an extensive article about the device's history, and its importance in filling in some of our knowledge gaps about the formation of astrology during the Hellenistic period.
This exciting discovery gets us a little closer to understanding the "quantum leap" astrological theory took at the time, as well as insight into some of the great thinkers who may have invented and/or used the device.
(The image shown above is a computer-generated model of the device in its original working form, as constructed by Tony Freeth and Alexander Jones).
---
Next Live Webinar on the 10th House Saturday January 17, 2015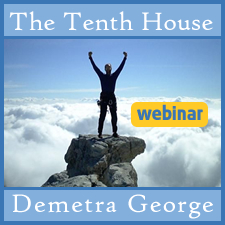 Explore the many facets of the Tenth House. Discover how the traditional lineage informs ther modern astrological interpretations. Demetra will present a thorough overview of the 10th house in addition to chart examples to illustrate her techniques.
Registered by January 15 and save $5; $30 thereafter
$25 Register Now
---
2015 Travel Schedule
April 9-11, 2015: AFA: The Cosmic Clock in Tempe AZ
The Timing of Fleet-Footed Mercury
The Timing of Illness
Timing Aspects by Planetary Periods
A study in timing. Join us for an intimate focused plenary style gathering of high quality presentations given by Deb Houlding, one of the England's premiere astrologers, Ben Dykes, leading translator of Medieval and Arabic astrological texts, Austin Coppock, myself, and several surprise guest-speakers. This is my only public presentation in the U.S in 2015.
October 2015: Starlotus Tours
Sirens, Sibyls, and Seers: A Traveling Symposium to Southern Italy
Almost full! Sign up for notifications and updates now.

November 5-8, 2015: Netherlands
contact Peter Saarloos | Opleidingscentrum Ishtar This email address is being protected from spambots. You need JavaScript enabled to view it.

November 14-15, 2015: Hamburg, Germany
contact Klaus Bonert

This email address is being protected from spambots. You need JavaScript enabled to view it.